Ticketing info
New Ticketing System launched 1 july 2020
Our new ticketing system was launched on 1 July 2020 which enables you to manage all your bookings and buy your discounted tickets just by logging in.
On Monday 29 June 2020 at 4pm our old system was shut down and the new system went live at 9am Wednesday 1 July, 2020. If you haven't already done so, please set a new password. This is very easy in the new system. Please use your email address that you used in our old ticketing system when resetting as this will show all your existing sales in the new system. Your Customer ID remains the same in the new system.
How to reset your password –

Step One: Go to https://evtam.sales.ticketsearch.com/login and
click the link "Forgot Password or No Password Set"
Step Two: Enter the email address that you used in our old ticketing system. You will be sent an email with a temporary password.
Step Three: Copy the temporary password and use the login in link included in the email.
Step Four: Once you log in you will see the following screen. On the left hand side you will see a link to 'Change password'. We recommend you change the password now before exploring.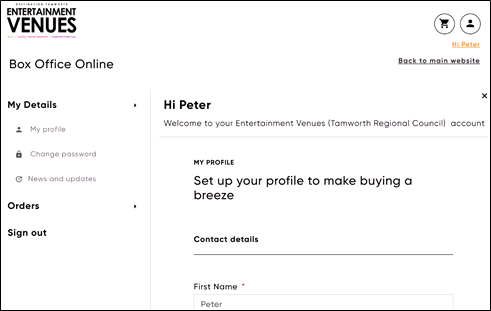 Once you have changed your password take a look around. You can manage your likes and interests, see your orders and any exclusive benefits that we may give you from time to time.
If you have any issues please call our Box Office staff no 02 6767 5200 during the week between 10am and 4pm.
---
Ticketing Information
Three easy ways to book
1. Online:
To see a complete list of what shows we are selling CLICK HERE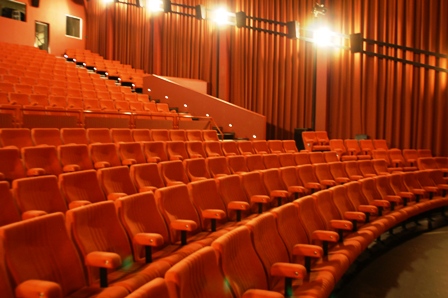 To be taken directly to the ticketing Sign-In page CLICK HERE
2. Phone: 02 6767 5200
3. In person: Capitol Theatre - Level 1, Centrepoint, 374 Peel St, Tamworth
BOX OFFICES
Capitol Theatre: 10am to 4pm Monday to Friday and 1 hour prior to Capitol performances.
Tamworth War Memorial Town Hall : 1 hour prior to the performance
TRECC: 1 hour prior to the performance
AELECC: 1 hour prior to the performance and some extended hours depending on the event.
GST & Transaction Fees
All ticket prices include GST. A Transaction Fee will apply. Currently $2.50 per transaction online and $3.50 per transaction across the counter at all box offices, and $5.50 per subscriptions.
---
Gift vouchers
An Entertainment Venues Gift Voucher makes an ideal gift for Christmas, birthday or anniversary. The recipient has the flexibility to choose performances, dates and times. They are available in $20, $50, $100 & $150 amounts and you can personalise your message and have your gift sent directly to the recipient's email address. If you'd prefer to customise the amount of your gift...you can do that too!
---
School Student Discounts
These are often available for any student up to Year 12, depending upon the show. Children 2 years and over must have a paid seat.
---
Concession Discounts
These are often available to Pensioner Concession and Senior's Card holders, university and TAFE students. Proof of entitlement may be asked for at the time of booking and/or at the door.
---
Group Discounts
When you purchase 8 or more seats you receive a discounted price per ticket. Not available for all productions.
---
Wheelchair Seating & disability Access
You must call the Box Office to book a wheelchair position. These are not available online. Full wheelchair access to Centrepoint and the Capitol Theatre is available. Patrons requiring wheelchair seats must indicate this to the box office at the beginning of the booking. Sight impaired and hearing impaired customers please contact the Capitol Theatre to discuss your seating requirements. Companion Cards are excepted but not available at all events.
---
Ticket Exchanges and Refunds
For general ticket holders we have a 'no exchange, no refund' policy. Refunds are only available as per the Live Performance Australia code of practice for ticketing. You have a right to a refund if the event to which you purchased an authorised ticket is cancelled; rescheduled (and you cannot or do not wish to attend the rescheduled event); or you are significantly relocated. Click here to see our Ticket Sales Terms and Conditions. Click here to learn how to buy tickets online and avoid scams.
---
COVID-19/Coronavirus
As at 29/06/2020
The NSW Government has announced that from 1 July 2020 all indoor venues can open but they must follow the 4 square metre rule.
We will be opening our Box Office again from 1 July for normal box office hours but we won't be presenting any ticketed theatre shows under these capacity restrictions as it just isn't economically viable for us or the promoter or hirer to do so. We will wait until the 4 square meter rule is lifted. We are hopeful that this will occur within the next 2 to 4 weeks.
We have put a range of measures in place like automated hand sanitisers, increased cleaning and cashless and contactless transactions and we are happy for people to wear masks to the theatre if they so desire once we open again.
At this stage we don't know exactly when our first show will be but we are crossing our fingers that it will be in late August/ early September 2020 – as soon as the NSW government lets us know we will be communicating with you about all the shows we will have on offer.
Cancelled Events and Refunds
Ticket holders are entitled to a refund or exchange for any events that are cancelled or significantly rescheduled, as per the Live Performance Australia Ticketing Code of Practice.
For the latest public health updates
Visit NSW Health or call the National Coronavirus Health Information Line: 1800 020 080.
We thank you for your patience and understanding.
Peter Ross
Manager Entertainment Venues